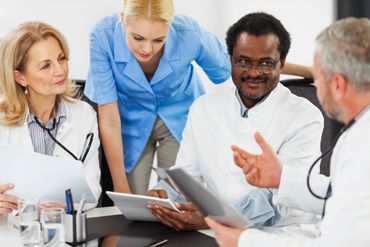 Special Projects
Healthcare presents a myriad of challenges, whether it is the resolution of insurance claims or the handling of patient inquiries. KeyMed Partners fully understands the pressures of managing the entire cycle of the accounts receivable process, and we are well equipped to offer additional and specialized services that can further assist you in meeting your professional and financial goals.
Our skilled professionals can provide financial analysis of your operation as well as guidance in revenue cycles, credentialing and the management of contracts and denials. We are also proficient in negotiation and will work with you in reviewing contracts and negotiating with vendors on your behalf.
Our specialty services can augment what you are already doing or provide a new dimension to your current operation.
ACCOUNTS RECEIVABLE CLEAN UP
CHART REVIEW AND AUDIT
BILLING SYSTEM IMPLEMENTATION
FEE SCHEDULE ANALYSIS
PAYER POLICY EVALUATION
STAFF DEVELOPMENT & TRAINING
INTERIM PRACTICE MANAGEMENT
How can we help? Give us a call today to discuss your needs 855-453-9633.